Handpicked deals...
$2499.0
$1739
SAVE $760
Eye Relief
Eye relief sounds innocuous, but the key word is "relief" as in "a feeling of relaxation following release from distress ". That's exactly what it means when using a binocular with enough eye relief versus one with too little for any period of time— an ease of viewing.
I had no idea just how important eye relief is when I started my evaluation of binoculars! Except that I was advised by others in the know that eye relief is the #1 thing to look for, but I did not understand why until I saw for myself, and used a variety of binoculars.
Eye relief is critical— the more the better. Binoculars range from a difficult 12mm up to a relaxing 23mm.
Reader Dan M, who went on his own long search for just the right binocular, states:
A key point, and one of the great values of your review, is that eye relief might not jump out at a potential buyer as a factor if they just grab a pair of binoculars off a store shelf and look through them for a moment. It takes a bit of time and repetition to see just what a huge factor it is.
OWC Thunderbolt 3 Dock
Ideal for any Mac with Thunderbolt 3
Dual Thunderbolt 3 ports
USB 3 • USB-C
Gigabit Ethernet
5K and 4K display support plus Mini Display Port
Analog sound in/out and Optical sound out
Works on any Mac with Thunderbolt 3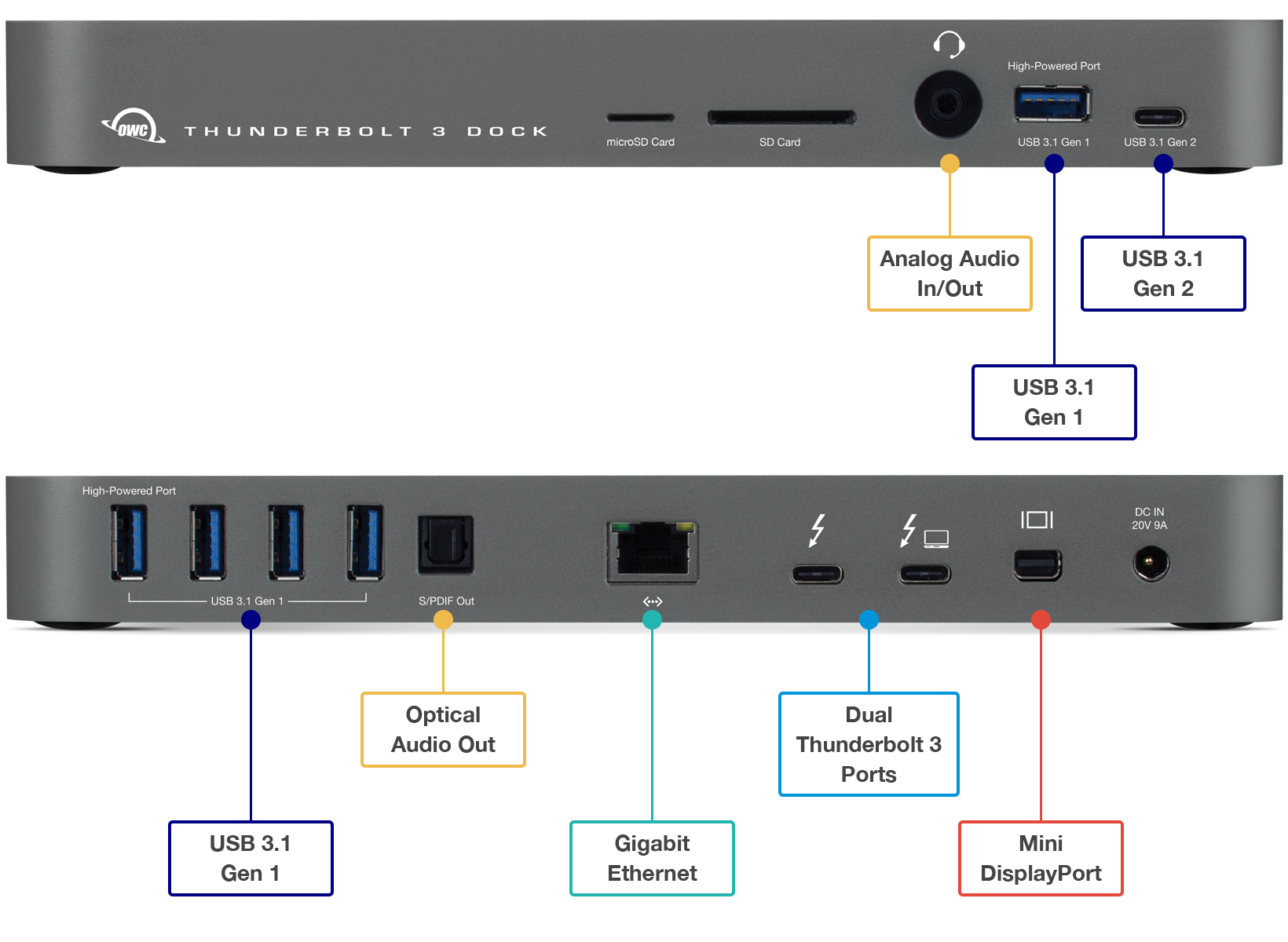 My own assessment of eye relief
Here are my personal ratings of eye relief, based on using binoculars with 15.5, 18, and 23mm of eye relief. No one can tell you which figure is best for you except, that there is one hard and fast rule: more eye relief is better.
Whatever you do, do not walk into a store, grab a pair of binoculars and take a 10 second look: make yourself use them continuously for at least two minutes. Force yourself to look up and down too (go outside if you can). Pay attention to what you must do to keep a full and clear image, and what you must do with your arms and neck to achieve that. Focus far away, and close too.
15.5mm — adequate, but it takes a concerted effort to keep the eyes centered, the eyes must not deviate in any direction or the view will black out. I couldn't imagine using such binoculars for very long, but sporadic use for a minute or so will be fine.
18mm — notably easier to work with than 16mm, but the eyes must still remain well centered.
19/20mm — TBD
23mm — Lovely. Relaxing to use, and they eyes can even be angled just a bit and still get a good image, which eases the neck position too.
Compact choices
Very few compact models have good eye relief; most are absolutely terrible, with as little as 12.5mm. But see the Nikon EDG page.
Binoculars at B&H Photo: