Today's Deal Zone...
Top deals pages...
Wishlist pages...
Search for deals...
SAVE $400
Apple 15.4" MacBook Pro with To…
SAVE $100
Apple Mac mini (Late 2018)
SAVE $1100
Apple 27" iMac Pro with Retina…
SAVE $300
Apple 12.9" iPad Pro (Mid 2017,…
$16 FREE ITEMS
SAVE $750
Canon 10x42 L IS WP Image Stabi…
SAVE $150
Cineo Lighting Basic Matchbox L…
$165 GIFT CARD
SAVE $800
LG C8PUA Series 55"-Class HDR U…
$65 GIFT CARD
Sony X900F Series 55"-Class HDR UHD Smar…
View all 20 deals…
Filter—Kenko DR655 Infrared Cut
Spectral transmission graphs on this page were measured by Coastal Optical Systems on their equipment using single samples of the specified filters. Graphs used by permission.
Graphs are in nanometers. Visible light is approximately 390 - 650 nm (the human eye can see very weakly into the 700-800nm range).
Buying filters
A great source for filters at competitive prices is our trusted sponsor, B&H Photo. Get filters at B&H Photo.
Spectral Transmission — Kenko IR block filter DR-655
See the Japanese language specification page describing this interference type filter. The spectral transmission curve suggests that color rendition might offer some irregularities.
The loss of blue (400-420nm) is substantial, and its uneven spectral transmission is not desirable. However, it cuts infrared off sharply at 650nm.
Compare to the B+W 486.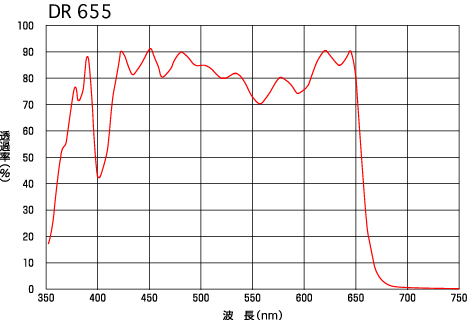 __INLINE_AD_TEMPLATE__