877-865-7002
Today's Deal Zone Items...
Handpicked deals...
Hard drives or SSD.
GOAL ZERO Nomad 20 Solar Panel
See solar and battery power charging wish list at B&H Photo.
The GOAL ZERO Nomad 20 solar panel is a medium size portable solar panel. It is much larger and heavier than the Nomad 7 and thus while highly portable, much less suitable for backpacking. There is also a Nomad 13 solar panel that splits the size/weight difference.
20W rating, Open Circuit Voltage 18 - 22V
Weight as weighed: 1128g, +330g for AC power brick and cord
USB: 5V, 2.1A max, 10W max, regulated
Blue, 8mm Solar Port: 14-22V, 1.3A max, 20W max
2.5mm Mini Solar Port: 6.5V, 1.1A max, 7W max, regulated
Folded dimensions: 8.5 x 13 x 1 (21.6 x 33 x 2.5 cm)
In use dimensions: 30.5 x 13 x 1 in (77.5 x 33 x 2.5 cm)
Operating Temperature 0 to 120F (-17 to 48C)
The Nomad 20 is suitable for directly charging small electronics and/or small batteries more rapidly than theNomad 7, at the cost of weight and bulk. It is also suitable for charging the GOAL Zero Yeti 150.
OWC Thunderbolt 3 Dock
Ideal for any Mac with Thunderbolt 3
Dual Thunderbolt 3 ports
USB 3 • USB-C
Gigabit Ethernet
5K and 4K display support plus Mini Display Port
Analog sound in/out and Optical sound out
Works on any Mac with Thunderbolt 3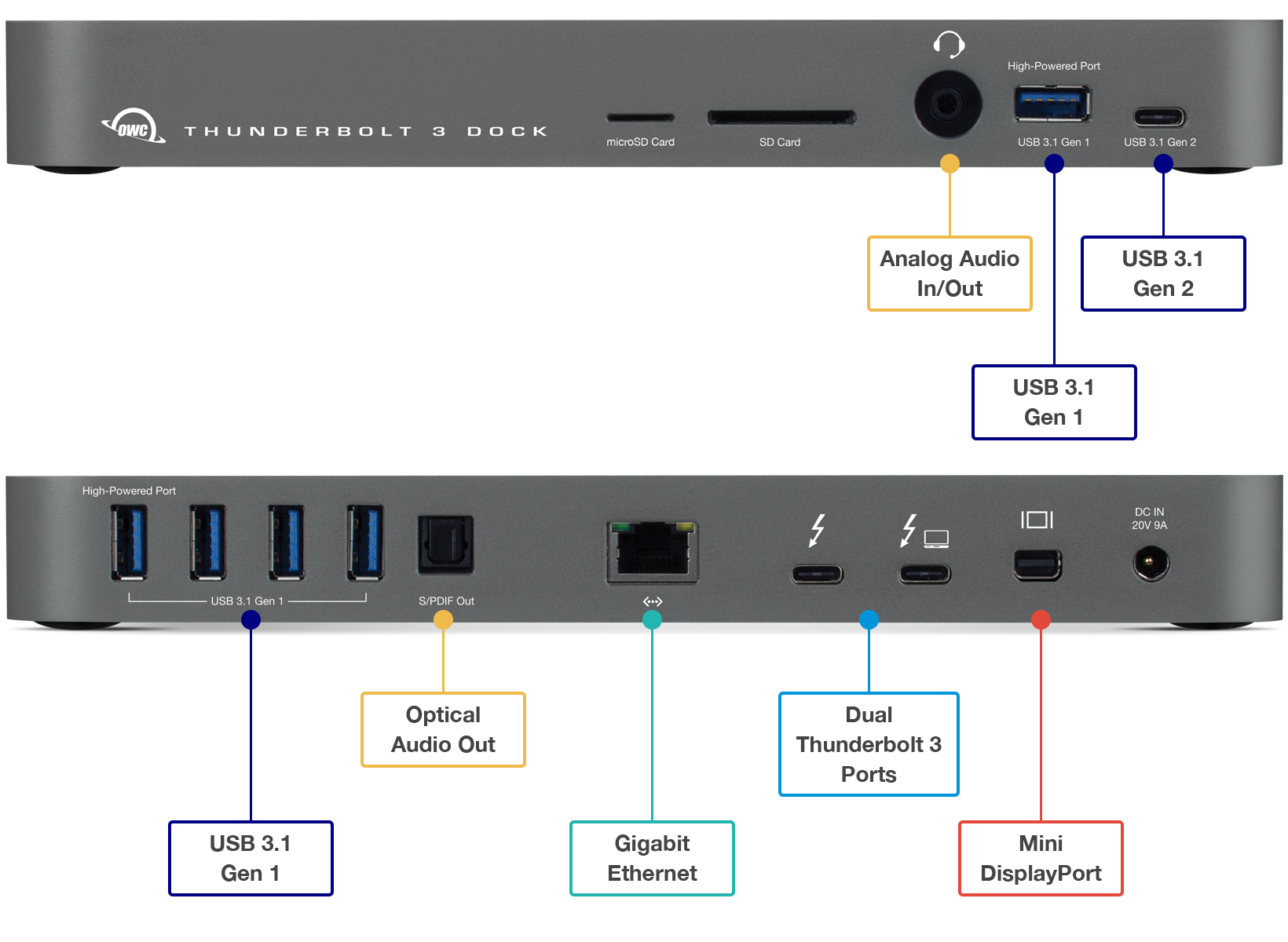 Charging the GOAL ZERO Yeti 150 battery pack with Nomad 20 solar panel
First, the Yeti 150 battery pack was totally drained by running a MacBook Pro Retina at full throttle using MemoryTester stress for some hours. The Watts Up Pro Electricity Consumption Meter @AMAZON showed steady draw of around 45 watts, ranging up to 65 watts briefly. The Yeti 150 had no trouble maintaining this output load.
The next day, the Yeti 150 was taken outside and connected to the GOAL ZERO Nomad 20W Solar Panel from 10:30 AM to 6:30 PM. After those 8 hours it read only 20% full—discouraging. However, the next day charging started around 8:30 AM, and by the end of the day it read 100%. In other words, about 18 hours to fully charge the Yeti 150 using the Nomad 20 solar panel*. Why the charging indicator was so non-linear is unclear. Later in the year or with partial sun or clouds it would take longer to charge.
* Charging conditions: full sun in late July, 500' elevation, latitude 37°N, 80° to 90°F, battery pack kept shaded.
Below, the GOAL ZERO Yeti 150 Solar Generator Power Pack is being recharged using the GOAL ZERO Nomad 20W Solar Panel. The Nomad 20W panel can also direct-charge electronics via a USB plug.
Great for travel or for desktop!
√ No more slow and noisy hard drives!
√ No more slow and noisy hard drives!
Hard drives or SSD.