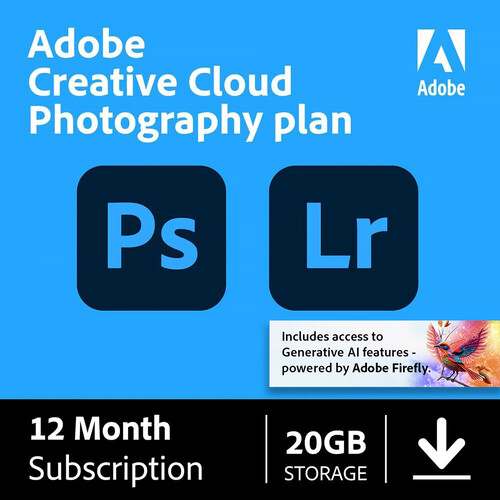 I see $10 a month for Photoshop and Lightroom as a bargain for any professional.
Today only, Photoshop and Lightroom CC 12 month subscription is only $88.95, which is $7.41 a month. Compared to my cell phone bill, it is less than the tax.
Deal ends at midnight tonight, EST.
...
It neatly solves another nuisance for me: one purchase, vs the monthly $9.99 charge, each of which I have to enter in my accounting program to balance the books. As I have two subscriptions, that's 24 annoying entries per year. I called Adobe and they refused to allow billing on a year basis.
So now I can pay once, save $31 X 2 = $62 and make only two accounting entries per year.
Update: gah! There is a limit of one (1) purchase only (I tried!):
Please note: You have exceeded the limit for ADCCPP12MS-Creative Cloud Photography Plan (12 Month Subscription, Download). You currently cannot purchase additional quantity. The item has been removed from you cart
Here's how it works:
Purchase at B&H Photo. An email like the one below will be sent.
Login to existing Adobe account (if any); cancel current membership.
Logout of Adobe account
Click the redeem link and enter code.
Voila—a year of the plan at reduced cost.
Mark C writes:
This seemed like a good deal, so I went ahead and bought one myself. When I cancelled my existing plan, however, Adobe stated I would be charged $54.95 as a cancellation penalty. That's 50% of the $119/year cost of the photography plan. I did go ahead and cancel and then added the newly purchased plan via the redemption code. That all worked, but I was still on the hook for the fee.

I had to call Adobe, and the guy had to talk with his supervisor. In the end, they credited me back the fee, but it was a hassle. They started out saying it was in my "contact" for the yearly membership, etc.

Just wanted to let you know there may be others that run into this scenario.

Regardless, thanks for the heads-up on the deal.
DIGLLOYD: Interesting... I was on a month to month $9.99 plan and no mention was made of any cancellation fee when I cancelled. Sounds like a criminal (used loosely) policy by Adobe.